Beaver River Property Owners Assn., Beaver River Station, NY – Community Safety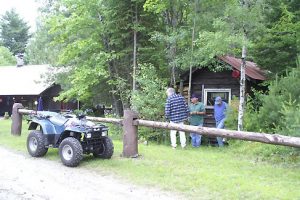 The emergency siren is located on a small building (facing the railroad tracks) between the Norridgewock (on the left) and Bill Partridge's camp on the right (not visible in photo). The siren is for use in any emergency: fire, serious injury, etc. The Thompsons have graciously allowed us to wire the siren to their battery/inverter system, so it will work anytime, day or night.
If you activate the siren, wait near it until people come – you will need to give them instructions. If you hear the siren, go to this location for instructions as to the nature of the emergency, what's needed and where.
Remember: always meet at the siren!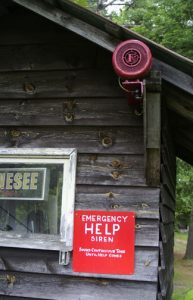 The siren. To the left of the red sign you can see the switch that activates the siren, under the window trim. It looks and works like an ordinary light switch. Flip it up (on) and wait…you will not hear anything for 30 seconds. This delay is normal, it's what cycles the sound up and down. Do not flip the switch on and off, trying to get it to work – this will only increase the length of the delay. Just turn it on and walk some distance away (it is LOUD!) but wait for people to come and receive instructions from you.
Parents: if you send your child to activate the siren, make sure he/she understands the 30 second delay, to wait by the siren and what to tell people when they arrive.

The siren is tested. The dogs don't seem bothered by the noise.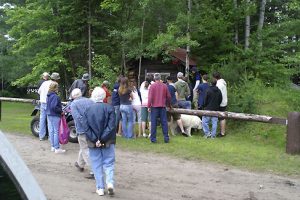 A crowd gathers at the siren to receive further instructions.